RF Explorer -- Handheld RF Spectrum Analyzer
RF Explorer is a new series of low-cost, portable, RF spectrum analyzers designed by
Arocholl
that are available in a variety of frequency ranges. Nuts About Nets has been developing diagnostic tools for troubleshooting wireless networks for a number of years and when RF Explorer was first introduced to us we were extremely impressed. The price-performance of these RF spectrum analyzers is truly remarkable and is the best, by far, on the market -- nothing else comes close. These RF analyzers operate both standalone as handheld devices, plus they interface via USB cable to a PC running more sophisticated data acquisition and analysis software. Prices for these RF spectrum analyzers (including PC software) begin at $119 USD -- which is unheard of in the test equipment industry.
The RF Explorer series of analyzers re-defines the handheld, portable RF spectrum analyzer. The unit is small and light-weight, yet offers performance and features comparable to larger, more expensive devices.
Whereas once the use of RF spectrum analyzers were limited to companies/organizations that could afford their high price tag, the low cost of the RF Explorer now offers every engineer, technician, and savvy hobbyist the opportunity to own an RF spectrum analyzer.
RF Explorer Models And Supported Frequency Ranges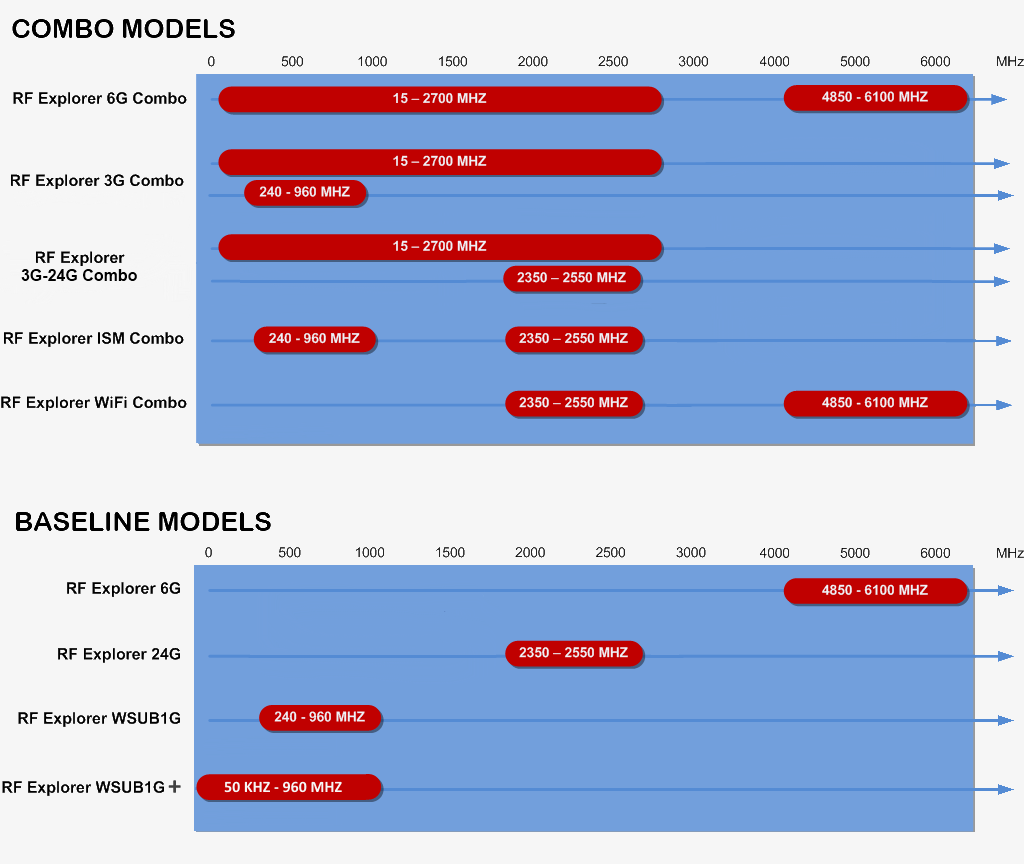 When designing, installing or troubleshooting wireless systems it is very difficult to predict the propagation of radio waves and detect the presence of interfering signals without the use of diagnostic, test equipment. Radio waves don't travel the same distance in all directions — instead walls, doors, elevator shafts, people, and other obstacles offer varying degrees of attenuation, which cause the Radio Frequency (RF) radiation pattern to be irregular and unpredictable. In order for a wireless system to achieve optimal reliability and throughput it is necessary to detect and identify sources of interference that affect its performance. Enter RF spectrum analyzers -- the tool of choice for monitoring wireless systems. Check-out RF Explorer's features, specifications and prices. We think you will be pleasantly surprised, just as we were.
Features:
Pocket size and light weight.
Solid aluminum metal case.
Graphics LCD 128x64 pixels, great visibility outdoors.
Spectrum Analyzer mode with Peak Max and Hold, Normal, Overwrite and Averaging modes.
Lifetime free firmware upgrades available, open to community requested features.
High capacity Lithium-ion polymer internal battery for 16hs+ of continuous run, rechargeable by USB.
Can interface to Windows and MacOS laptops, and Android devices running data acquisition and analysis software.
Wide band coverage includes: all popular sub-1Ghz ISM bands, 2.4x GHz ISM band (Wi-Fi, bluetooth, Zigbee), 5.x GHz ISM band (Wi-Fi) -- with maximum frequency reaching to 6100 MHz.
Comparison Of RF Explorer Models
Please refer to the links below for additional specifications:
Model
Frequency Range (MHz)
Span (MHz)
Frequency Resolution (KHz)
Average Noise Level (dBm)
Amplitude Resolution (dBm)
Automatic RBW (KHz)
Graphics LCD (pixels)
RF Impedance (ohms)
Max Input Power (dBm)
Frequency Accuracy
Frequency Stability
Amplitude Stability
Amplitude Accuracy
Size (mm)
Weight (grams)
Antennas Included
6G Combo
$365 USD
4850-6100
15-2700
2-600
0.112-600
1.0
-105
0.5
2.6-812
128x64
50
+25
+30
0.5 ppm
10 ppm
0.5 ppm
10 ppm
+/- 1 dBm
+/- 3 dBm
+/- 6 dBm
113x70x25
185
NA-773
Whip 2.4G
R Duck 5.8G
WiFi Combo
$270 USD
4850-6100
2350-2550
2-600
2-85
1.0
-105
0.5
2.6-812
128x64
50
+25
+5
0.5 ppm
10 ppm
0.5 ppm
10 ppm
+/- 1 dBm
+/- 3 dBm
113x70x25
185
Whip 2.4G
R Duck 5.8G
3G Combo
$269 USD
15-2700
240-960
0.112-600
1.0
-115
-105
0.5
2.6-600
128x64
50
+5
+30
10 ppm
10 ppm
+/- 1 dBm
+/- 3 dBm
+/- 6 dBm
113x70x25
220
NA-773
Whip 2.4G
WSUB1G
$129 USD
240-960
0.112-300
1.0
-115
0.5
2.6-600
128x64
50
+5
10 ppm
10 ppm
+/- 1 dBm
+/- 3 dBm
113x70x25
185
NA-773
WSUB1G+
$165 USD
0KHz-960MHz
0.1 – 960
1.0
-125
0.5
2.6-600
128x64
50
+30
10 ppm
10 ppm
+/- 1 dBm
+/- 3 dBm
113x70x25
185
NA-773
UHF 400-900MHz